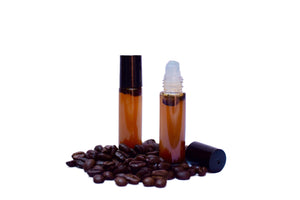 Auga Ber Über Coffee Eye Serum
Regular price $18.95 Sale
Auga Ber, Viking words for Bare Eye is Berserker Brew Coffee's newest in the line of Berserker Body Skin Care products. This All-Natural coffee eye serum is packed with botanical oils that help to erase puffiness, fine lines and dark under-eye circles.
Roll on a small amount under your eyes daily. Apply makeup as desired.
Ingredients:
Sweet Almond Oil infused with fresh Berserker Brew Organic Coffee grounds-Tightens the Skin and soothes puffiness
Avocado Oil-Reduces dark circles and puffiness
Coffee Bean Oil-Diminishes puffiness and minimizes lines
Rosehip Seed Oil-Reduces dark circles and rebuilds tissue
Bergamot Oil-Anti-Inflammatory
Size-10ml roll-on bottle
 Note: Perform a patch test on neck 24 hours before using under eyes.